IND AS & IFRS

FREE LIVE Webinar by Rammohan Bhave, IFRS Expert. Register Now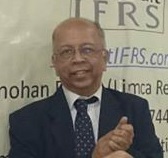 Benefit of this Webinar :Globalising (CA-CS-CMA) Profession through IFRS & IND AS
From :11 to 6 pm
Inauguration by eminent authority
---
About Mohanbhave
Bhave Sir is one of the best expert on IFRS today. He is a CA,CS,CMA and a Lawyer. He has an Industry experience of 3 decades.
Linked in Profile| Facebook Page
---
Link to Past Webinars
Good Jobs for Qualified CA and CA Finalist
Career Opportunity for Qualified CA.CS and CMA
Opportunities for Qualified CA's in 3rd Area
---
About MeraSkill
MeraSkill is an Online Learning Platform, which conducts online courses.We are currently running courses on Diploma in IFRS, Import & Export, Service Tax, CA-CPT, CS-Foundation ,CMA- Foundation,.
Link to few of our course: