CMA US Eligibility : Am I eligible for US CMA Exam?
Eligibility criteria for US CMA can be understood from three perspectives.
Eligibility for writing the exam - you should have passed at least class 12
Eligibility for Certified CMA - Education qualification - Graduate
Eligibility for Certified CMA - Two years of work experience
A detailed description of the above is mentioned below:
1.CMA USA Eligibility: Writing the exam
A candidate is eligible to prepare and give the exams after his/her 12th std.
Passing both the parts (Part 1 - Financial Planning & Analysis and Part 2 - Financial Decision Making) of the US CMA exam within 3 years in order to have the CMA certification.
2. US CMA Eligibility Education Qualification
To become certified CMA, Candidate must successfully complete his/her graduation in any discipline. A student who is in the final year of the bachelor's program may also pursue CMA, however, he/she will then need to then get a degree to attain the certification.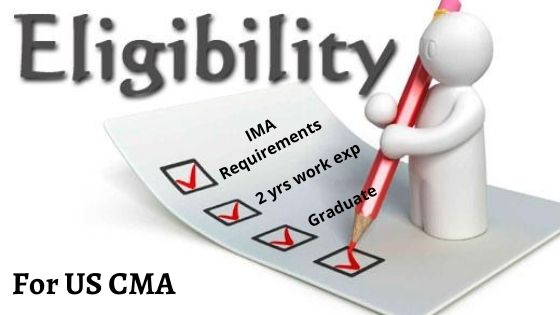 3.US CMA Eligibility Work Experience
To become certified CMA, Candidates must complete two continuous years of professional experience in management accounting and/or financial management. This requirement may be completed prior to or within seven years of passing the examination.
Below is the list of areas where you can show your relevant working experience :
Preparation of financial statements
• Financial planning and analysis
• Monthly, quarterly, and year-end close
• Auditing (external or internal)
• Budget preparation and reporting
• Manage general ledger and balance sheets
• Forecasting
• Company investment decision making
• Costing analysis
• Risk evaluation
• Management information systems analysis
• Management accounting and auditing in government, finance, or industry
• Auditing in public accounting
For writing the US CMA Exam you must pass class 12 (from any discipline).To become a CMA member, you must pass both Part 1 and Part 2 exams, Should be a Graduate (from any discipline) and have two years of work experience in the fields mentioned above.
US CMA (Certified Management Accountant) is a globally recognized management accounting credential offered by IMA(Institute of management accountants),
If you have any questions related to US CMA or its eligibility, fill the form and we will help you with all the process.
Get US CMA detail on WhatsApp | Course Overview | US CMA Course details |US CMA Syllabus | US CMA Study Material | US CMA Course Fees in Indian Rupees | US CMA Question Answer Pattern | US CMA vs Indian CMA | US CMA Self Study