Understanding the difference between the CMA USA and CMA India
Many students and professionals are trying to take up the CMA exams and may have confusion about which of the CMA exams (U.S. or India) they would like to take up that would help their career soar. We are here to help you make that all-important decision so that you make an informed choice.
Certified Management Accounting (CMA) of the USA has worldwide recognition managed by a regulatory body IMA (Institute of Management Accountants). In contrast, the CMA India certification is granted by the Institute of Cost Accountants of India.
The key pointers that differentiate CMA USA and CMA India
| | | |
| --- | --- | --- |
| Features | US CMA | Indian CMA |
| Course duration | One year | Three years |
| Eligibility | 12th grade/undergraduate | 12th grade |
| Passing criteria for CMA | 360 out of 500 marks | 40% in each paper and 50% aggregate for each group |
| Course format | Two parts | Three parts- foundation, intermediate and final levels |
| Recognition | Globally accepted | In India only |
| Focus of the course | Management accounting | Cost control |
| Articleship | Not required | Minimum of six months |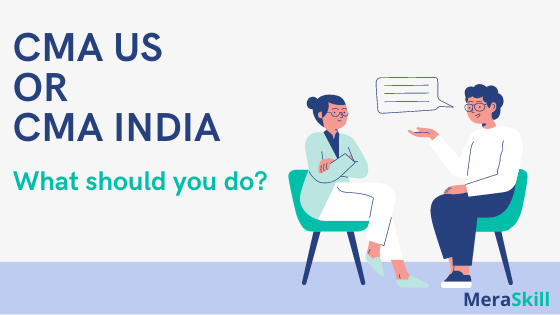 Job opportunities for both CMA USA and CMA India
US CMA course is preferred by working professionals who feel they need to move to the professional category and back their working experience of finance. US CMA course helps you back your accounts or finance working experience and get the desired growth which you are looking for in the role of MIS, financial controller, chief financial officer.
The Indian CMA certified candidate has a varied opportunities in the domestic job market to get into the role of finance manager, financial analyst, financial risk manager, financial controller, cost accountant, chief financial officer, cost manager, relationship manager etc.
Either you get your CMA from the U.S. or India, the certification will help you expand your career potential and get you to stand out from the rest. Check further on US CMA Course details
Course Expenditure For CMA USA And CMA India
The CMA USA fee varies depending on whether you are a professional or a student. To start your preparations you can start the course at 12500 INR and the total cost involved to complete is approx 1 lakh with around 1 year to complete the course. Check US CMA Course Fee
The Indian CMA course fees comprise the foundation level cost of INR 6000 approx, the intermediate level will cost INR 22,000 and the last level will cost INR 25,000 and total cost approx 1.5 lakhs with around 2 to 3 years to complete the course.
Curriculum for Both CMAs
| | |
| --- | --- |
| US CMA | Indian CMA |
| Part 1 - External financial reporting decisions | 1.Foundation level |
| Part 2 - Financial statement analysis | 1. Fundamentals of economics and management |
| | 2. Fundamentals of accounting |
| | 3. Fundamentals of law and ethics |
| | 4. Fundamentals of business mathematics and statistics |
| | 2.Intermediate |
| | 1. Financial accounting |
| | 2. Laws and ethics |
| | 3. Direct taxation |
| | 4. Cost accounting |
| | 5. Operations management and strategic management |
| | 6. Cost & management accounting and financial management |
| | 7. Indirect taxation |
| | 8. Company accounts & audit |
| | 3.Final |
| | 1. Corporate laws & compliance |
| | 2. Strategic financial management |
| | 3. Strategic cost management |
| | 4. Tax laws and international taxation |
| | 5. Corporate financial reporting |
| | 6. Indirect tax laws and practice |
| | 7. Cost and management audit |
| | 8. Strategic performance management & business valuation |

US CMA format and marks allocation
The US CMA format allows the candidate
To take up the exams in the months of January - February, May - June and September – October.
The candidates will answer multiple-choice questions and essay-type in both parts (I & II) of the examination. Each of the parts will comprise 100 MCQs and two essay-types.
The candidate will be given 3 hours to complete the MCQ section and an hour for the essay type.
Each part is of 500 marks out of which you need to get 360 to pass the exam.
The CMA India examination
Foundation
Four papers of 100 marks containing both objective and descriptive types of questions.
Intermediate
The intermediate exam comprises two parts, each worth 100 marks and the time duration is 3 hours.
Final
Consist of 8 papers of 100 marks each. The exam will be both descriptive and objective.
Applying for Indian CMA course
When applying for the foundation level, the candidate must have cleared the 10th and 12th standard examination or the equivalent from a recognized board.
Applying for US CMA course
The candidate must have cleared their 12th grade or an associated exam for appearing in the CMA USA exam. Check US CMA course eligibility
How the course can be beneficial for both students and working professionals
When a candidate completes this course they will have better opportunities even as fresher because CMA qualification is looked up to as one of the best training grounds even by industry standards which experts consider while hiring. This upskilling for working professionals will help them to mount their career to a whole different level. The course is designed in a manner that can leverage every candidate's future and help them to seek opportunities in any industry or corporate sector with better expertise at hand.
If you have any questions related to US CMA or its eligibility, fill the form and we will help you with all the process.
Get US CMA detail on WhatsApp | Course Overview | US CMA Syllabus | US CMA Study Material | US CMA Course Fees in Indian Rupees | US CMA Eligibility | US CMA Question Answer Pattern | US CMA Coaching | US CMA Self Study