Selecting Best CMA USA coaching institute
When you have taken to prepare for the US CMA Exam, you will assess the various options to go about the course for studying. You will have to make some choices because several factors come into play, such as money, time, and finally, the US CMA institute that you will choose to initiate for your preparation.
There are three options that US CMA candidates may pick from. Let's dive in to get more information on 3 options with 3 people named Rohit, Sumit and Raghav.
Self-study like Rohit
Join Physical classes or Online in an institute like Sumit
Join Physical classes or Online classes like Raghav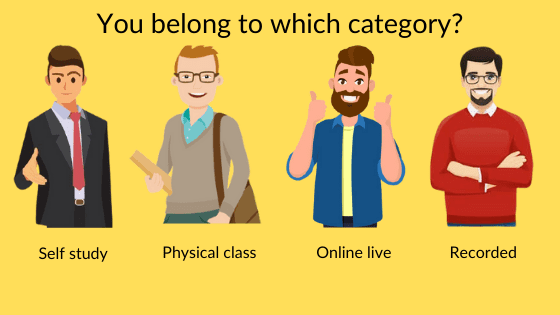 Let us look into each one and understand the pros and cons with three candidates who are preparing for CMA
US CMA Exam Self-study
Not committed to US CMA certification
Advised mode of learning - Self Study
Risk - May drop the course in between
Benefit - No monetary investments
Who is Rohit?
Rohit is a graduate/undergraduate and not at work. He is not sure if US CMA is the right course for him. I don't want to commit to a US CMA course, I want to try out & see what is in the course. This method often runs with the risk of not completing the course. People often get frustrated with their effort not giving any results.
So if you have ample amount of time and want to save money like Rohit Self study for US CMA is the correct option for you.
For more details on the self-study - click here
US CMA Physical classes
Have a lot of time in hand & not a disciplined learner
Advised mode of learning - Physical
Risk - Get left out in group if unable to keep pace with batch
Benefits - Study in a batch.
Who is Sumit?
Sumit is a graduate/undergraduate and not on work & sure about getting US CMA qualification. He does not have any financial constraints & can invest money & attend full-time classes. Can complete assignments & follow the pace of the class with no constraint of time. Online classes are advisable if you are disciplined with your studies. If you don't have time to keep the pace of the classroom batch. You may fall behind. Also, the class will assume you have a certain understanding. If you fall behind, you will be left out.
So if you have an ample amount of time & no monetary constraints like Sumit Physical classes for US CMA is the correct option for you.
US CMA Online classes
Self-discipline
Advised mode of learning - Online
Risk - Have to have the discipline for online learning. Follow the study plan.
Benefits - Study at your own pace, available at 30% of classroom cost
Who is Raghav?
He is a working professional and has a time constraint. He knows this qualification will help him in his career growth. He wants to get the qualification & move ahead in his career. It's suitable in several ways with a lot of flexibility around the timings you could dedicate to learn from your mentors. You could take up the classes any place you want to, along with not having to dig deep into your pockets.
Now that you have checked out what Rohit, Sumit and Raghav are up to, you can relate to them and pick your best option for CMA prep. Each one of them has its own merits and demerits, but it depends on the comfort level and suitability of the candidate to pick an option that works well for him/her to get through the CMA exam.
If you belong to the Sumit or Raghav category i.e Physical or online classes then we are here to help you
Meraskill Online US CMA coaching institute
Online recorded and Live video course
Access till you pass
Unlimited video viewing
Android App
160 hrs of the video course
Whatsapp Group for Queries
Question Bank, Exam sessions
Exam registration Support
We have discussed the entire thing about which is the best US CMA coaching for you. If you have any queries, you can fill-up the form or click on the below WhatsApp button to chat.
If you have any questions related to US CMA or its eligibility, fill the form and we will help you with all the process.
Connect on WhatsApp |US CMA course details and videos | US CMA Exam Question and Answer Pattern |US CMA Exam format and dates | US CMA Syllabus | New Syllabus 2020 |US CMA by Self Study | Why People Fail in US CMA Exam | US CMA Course Details | US CMA Question Pattern | CMA US or CMA India